Biography & CV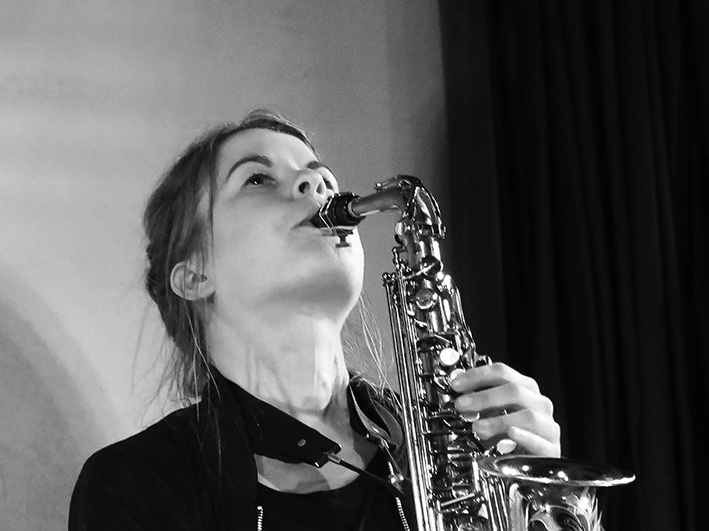 The berlin-based saxophonist Mia Dyberg plays in the fields of Jazz and free improvisation. Her unique melodic expression emerges from sound experiments & scandinavian melancholy. She composes for Mia Dyberg Trio which plays Free Jazz with narrative motifs & timestretch-grooves. Clean Feed Records released Ticket! which got 4 stars in Downbeat Magazine.  She is a steady member of the dadaistic improv-collective Klub Demboh, playing with Axel Dörner & Antonio Borghini (amongst others) every Monday. 'Mia Dyberg is a saxophonist who is well inside the free improvised. But not without having "head and tail" in what she does. Dyberg's playing is controlled and easy-to-grasp. She has full control of the free but also has a good sense for jazz history' – Jan Granlie, Salt Peanuts.

Photo: Peter Gannushkin
Selected Festival appearances
Jazzfestival Saalfelden
Akut Festival
Umeå Jazz Festial
Berlin Jazzfestival
Copenhagen Jazz Festival
Press quotes

'The saxophonist's adroit phrasing and tonal flexibility express a variety of moods and textures quite clearly, and her melodic imagination ensures that each gesture lands with emotion.' —Bill Meyer Downbeat Magazine
'It's always good to welcome new talent to the music scene, especially when the artists have their own strong vision of what music should and could sound like. And Mia Dyberg clearly fits into that category. Next to her own musical vision, she has the additional strength of being very open to perform with musicians with completely different approaches, and from different cultural and instrumental backgrounds, or even age groups. She demonstrates this openness with her Duo Scrapbook Album Series' by Stef The Free Jazz Collective
 'I don't know how Mia Dyberg does it, but many times  you forget that it's a saxophone she is playing. It is so much more than that' – Lisa Appelqvist, Kristianstadbladet
'(…)Dyberg's sense of freedom and expansiveness. Dyberg is a fountain of creativity and always searching for collaborators who can go along with her on those bold adventures to the land of the unexpected she takes.' – Greg Cohen
'Both Dyberg and Robertson utilized a range of ancillary sound-making devices and techniques, stretching into AACM/CMIF/ BAG-inspired passages of deep conversation, playful chatter and bluesy storytelling' —Clifford Allen, New York City Jazz Record
Academic Background and more detailed Bio:
Mia Dyberg (b, 1986) is a danish & swedish  saxophonist, improviser and composer currently residing in Berlin, Germany, where she works as a freelance musician since 2016. Performing with improv-musicians such as Steve Heather,  André Vida, Rieko Okuda,  Håvard Wiik, Matthias Müller and Tobias Delius. She is a steady member of the dadaistic improv-collective Klub Demboh, where she plays with  Michael Griener, Antonio Borghini, Axel Dörner, Tristan Honsinger (to name a few) every Monday since 2017.
She performed i.e. in New York, Alexandria and Stockholm with musicians as Jeb Bishop[US], Herb Robertson[US], Clayton Thomas [AU], Marina Dzukljev [SERBIA] Niklas Barnö [SE] Oscar Noriega[US]Kamilla Kovacs [DK] , Christian Balvig [DK] and Michael Evans[US].
The cornerstones of Dyberg's musical universe are the duo with pianist Rieko Okuda and the Mia Dyberg Trio with double bassist  (and founding member) Asger Thomsen as a creative counterpart.
She leads the Mia Dyberg Trio which plays Free Jazz with narrative motifs & timestretch-grooves, compositions by Dyberg, Thomsen or collectively improvised. Clean Feed Records released the debut album Ticket! which received brilliant reviews in jazz magazines such as 4 stars in Downbeat Magazine(USA) and was inspired by William Burrough's poetry. The trio was selected for 12 points, Dublin & AKUT Festival 2019 in Germany.
Her ability to combine sound experiments with melancholy in a unique melodic expression, makes her one of the new exciting voices on the european jazz scene. She is active project leader & co-founder of the international improvisers collective The Community.
Mia is also a part of the Copenhagen jazz/improv. scene and holds a Master Diploma in Music '2015  from the Conservatory of Copenhagen, where she studied with Jakob Anderskov, Søren Kjærgaard among others. She  grew up in the swedish archipelago and her both wild and impressionistic music is often affected by grand nature. But there is also a pulse of the city. The last couple of years she has made roots on the international scene as a leader of projects as: Mia Dyberg Trio, Dyberg 4 Ra, Kovacs & Dyberg, Christian Balvig/Mia Dyberg playing concerts in  Sweden, Poland, Germany and Egypt.