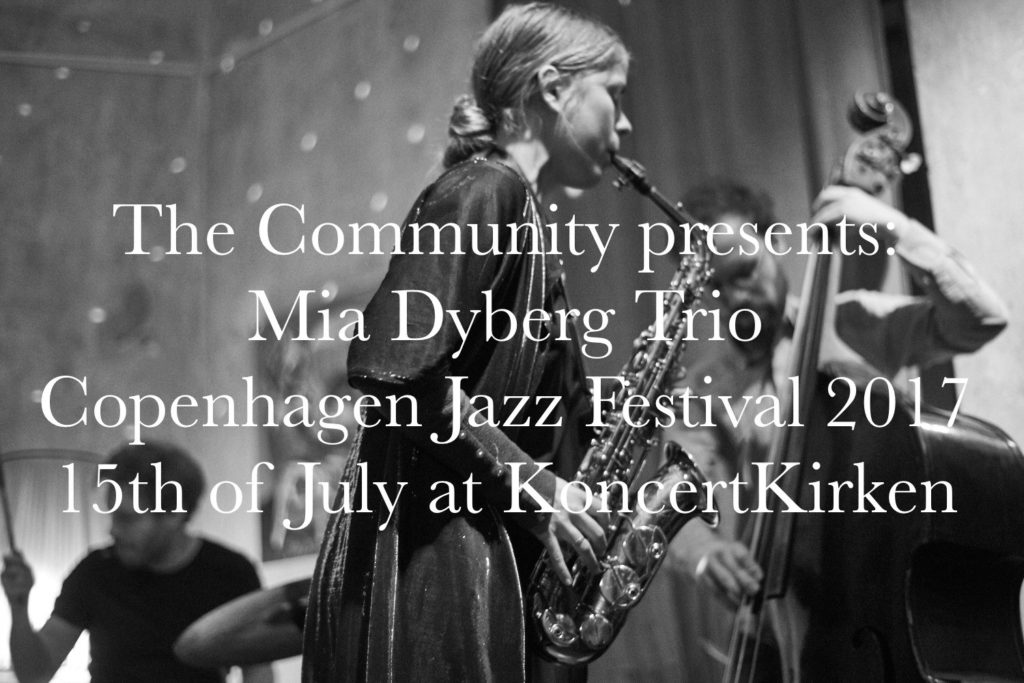 2017:
Im very active right now, so I dont always have time to update this page See updates on my fb Page, my private fb Profile   or the Trios Website .
SELECTED NEWS:
Copenhagen Jazz Festival. Im visiting Cph in july for the Jazzfestival!
11/7 16-19. Black Money Orchestra at Sort Kaffe og Vinyl.
20.00  Spektral Lydsøjle ( Asger Thomsen/Gianluca Elia/Mia Dyberg/Taus B Olesen) at Mayhem, Ragnhildgade 1, 2100 Kbh
Freejazz og Folkekøkken.  Mia Dyberg Trio at Amardillo Eventfabrrik, Amagerbrogade 156, 2300 København
Mia Dyberg Trio + Membram + Nana Pi Extemporize 

@KoncertKirken 
Im happy to work with  the constantly growing musicians collective The Community. The Community presents is an Open air festival taking place from 13th – 16th of July 4.30-7pm, during the last four days of Copenhagen Jazz Festival in the yard of KoncertKirken. The Community is an international improvisers collective which organizes events where the artists interact with each other. Putting the musicians together in new juxtapositions, musically or socially. In the beautiful yard of KoncertKirken between 16.30 and 19.00 each day. Free entry! Read more
15th of July, kl. 16.30 Mia Dyberg Trio
Mia Dyberg – Altosaxophone, Composition
Asger Thomsen – Double bass
Dag Magnus Narvesen – Drums
Mia Dyberg Trio is the collaboration of Mia Dyberg, Asger Thomsen & Dag Magnus Narvesen around a common interest : to create improvised music inspired by William Burrorughs emphasizing playfulness, cut up techniques, pulse-awareness and the silver smoke of dreams.
"The Eyelash Butterfly, The Electric Fisherman and The Big Boom. Together, they create. And this world of creation is happening from the moment sound escapes their instruments, until the final curtain falls. This world is a special world. With exactitudes. Liberties. Emotions and beaucoup listening going on! Treat yourself to their chemistry and you will be glowing for weeks afterwards."- Greg Cohen
www.miadybergtrio.com
17.30 Membram. Erik Kimestad Pedersen – Trumpet and more
Petter Severin Hängsel – Trombone and more
Kristian Vilanova Tangvik – Tuba and more
Membram is and is not a brass-trio.They work with texture, timbre, composition and improvisation. Traditional instrumentation, sounds and conventions are challenged and dissolved. An imaginative, humouristic and deeply serious search for the unheard. Electroacoustic sound (and noise) from brass, electronics and chosen objects.
18.30 Nana Pi Extemporize. Extemporize is conducted improvisation by Nana Pi for all participating musicians who have played during the four days and old and new members of The Community.
***
DREAMS DO COME TRUE! I got a steady gig in Berlin!
I feel lucky to be working in the houseband with intricate characters EVERY MONDAY such as Tristan Honsinger (cello), Joel Grip and Axel Dörner (trumpet)  in the foxhole Klub Demboh! 
| | | |
| --- | --- | --- |
| April. 1st | | Ziegrastraße 11, 12057 Berlin, Deutschland |
| | | |
| --- | --- | --- |
| 7 | | Copenhagen, Capital Region of Denmark, Denmark |
2017
19-20.1 Mia Dyberg Trio @ Sowieso, Berlin., DE
21.1 Mia Dyberg Trio / Rieko Okuda Duo @ Salon der Villa Plagwitz, Leipzig, DE
22.1. Mia Dyberg Trio / Sebastien Branche @ Galerie M89, Leipzig, DE
28.1 Niklas Barnö – trumpet, Mia Dyberg – reeds, John Holmström – piano, Joel Grip – double bass, Dag Magnus Narvesen – drums @ T-Berlin, Berlin, DE.
9.2 HELL @ Amardillo, Copenhagen, DK
18.2 19.30: Pi/Dyberg/Hängsel/Besiakov – Improvised horns and drum quartet @ Amardillo Eventfabrik, Amager, Copenhagen, DK
Nana Pi – tenorsax, Mia Dyberg – altsax, Petter Hängsel – trombone, David Besiakov- trommer
22.2 20.00 Randi Pontopiddan /Kamilla Kovacs / Mia Dyberg Trio @ Metronomen, Copenhagen, DK
23.2 19.30  Mia Dyberg Trio/Jesper Zeuten @ Amardillo, Copenhagen, DK
24.2 22. 00 Mia Dyberg Trio@ Osramhuset, Copenhagen, DK